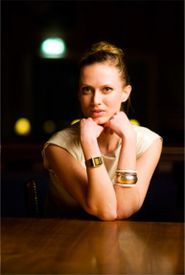 Multi-instrumentalist (saxofoon, harp en piano) en zangeres Roos Jonker (1980) treedt graag buiten de gebaande paden met haar eigen composities en producties. Ze werkte samen met bijvoorbeeld Benjamin Herman, en ze schrijft samen met artiesten als Benny Sings en Dean Tippet.
Ze studeerde in 2005 af aan de masteropleiding van het Conservatorium van Amsterdam, waar ze nu jazz-zang doceert.
Onlangs gaf ze nog een concert in het Amsterdamse Concertgebouw, samen met het Jazzorchestra of the Concertgebouw onder leiding van Rob Horsting. Vanavond dus met 'onze' Dual City Concert Band onder leiding van Bert Pfeiffer.